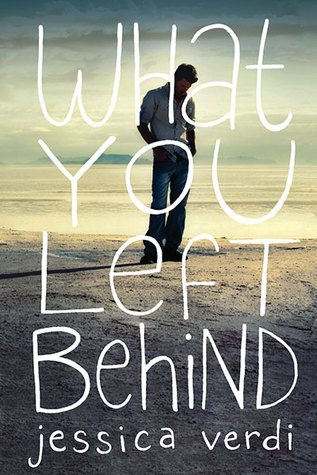 What You Left Behind
by Jessica Verdi
Release date: Aug 4
Format: ARC
Genre: YA Contemporary
Goodreads Link
Jessica Verdi, the author of My Life After Now and The Summer I Wasn't Me, returns with a heartbreaking and poignant novel of grief and guilt that reads like Nicholas Sparks for teens.
It's all Ryden's fault. If he hadn't gotten Meg pregnant, she would have never stopped her chemo treatments and would still be alive. Instead he's failing fatherhood one dirty diaper at a time. And it's not like he's had time to grieve while struggling to care for their infant daughter, start his senior year, and earn the soccer scholarship he needs to go to college.
The one person who makes Ryden feel like his old self is Joni. She's fun and energetic—and doesn't know he has a baby. But the more time they spend together, the harder it becomes to keep his two worlds separate. Finding one of Meg's journals only stirs up old emotions. Ryden's convinced Meg left other notebooks for him to find, some message to help his new life make sense. But how is he going to have a future if he can't let go of the past?
"Ryden's story is a moving illustration of how sometimes you have to let go of the life you planned to embrace the life you've been given. A strong, character-driven story that teen readers will love."—Carrie Arcos, National Book Award Finalist for Out of Reach
*I received this book from the publisher through Sunday Street Team to review honestly*
My Rating:

Review:
What You Left Behind is a very strong and well-written book about a difficult subject, teen pregnancy. It's not just about that though, it's also about learning to accept the things that happen in your life even if they aren't things you ever expected and it's not quite the life you wanted. It's about learning to grow up way too fast and life and love and death. It's about a lot of stuff and it's so freaking realistic. Seriously.
Basically, this book follows Ryden, super star soccer player on his way to getting a full ride to play at UCLA, and new father. Six months before the book starts, Hope is born and Meg(Ryden's girlfriend who decided to forgo chemo to keep the baby) died. Ryden's about to go back to school and has no idea what he's doing, he thinks finding his own father will somehow give him the secret to being a good one. He's also kind of obsessed with finding a series of journals he thinks Meg left for him.
I have mixed feelings about this book and I'll explain it as best I can but first let me say this is such a good book. It's so well written and I love Jessica Verdi for the fact that she never ever shies away from the hard stuff. I'm not into teen pregnancy books, I tend to stay away from them, so you know, that should tell you some about my reading this one.
A Few Of My Favorite Things:
- First and foremost this book is so freaking realistic. I mean, Ryden's a fuckup(his words, not mine) and has basically no idea what he is doing. he's pretty selfish and really just wants his life to go back to the way it was. He also feels extremely guilty, thinking it's his fault for getting Meg pregnant and her dying. There were times I hated Ryden for being selfish but, I mean, that's what makes it realistic. What teenage boy(or girl) who suddenly finds themselves a single parent at seventeen isn't going to want to be selfish sometimes?
- Um., the writing..it's amazing. Seriously! How does this author write such good characters? Tell me your secrets! Told from Ryden's POV it's one of the best male POV YA books I've read. Not only did she capture the male POV perfectly but she threw in some amazingly quotable lines too!
- Hope. Sometimes I thought Ryden was a douche for not wanting to spend time with Hope and always handing her off to other people. But overall, the relationship between the baby and him was my favorite, second only to the relationship he had with his mom.
- Parents! There is an actual real parent in this book(besides Ryden). Ryden's mom is like the coolest, she had Ryden at a young age and has always been there for him. Some mom's might freak out when they find out their seventeen-year-old son got his sick girlfriend pregnant but not her! They had such a fantastic relationship and that's something that is so majorly missing in most YA.
- Side characters. All the side characters were awesome, especially Alan(Meg's best friend) and Mabel(Meg's sister).
- Sex positive! Just saying, some people love that.
- Mysteries and twists. Not gonna lie, there were a few things I didn't see coming.
A Few Of My Not So Favorite Things:
- Ryden. He was selfish(realistically so, wh
en so much bad crappy shit happens of course you're not going to be perfectly okay with it right away!) and kind of annoying. I could appreciate where he was coming from and I'm not going to say anyone(including
myself
) would handled the situation better he just got on my nerves. I didn't like the
insta-
love between him and Meg and him and the love interest. And beside the very beginning and the end I never really felt like he cared a ton about Hope.
- Insta-love alert! I have to say, I was really hoping he wasn't going to fall in love. I really just wanted this book to be about him and Hope. Okay, it's not a fault of the book that I didn't get what I want, but there was insta love. Him and Meg definitely felt insta lovey and even more so with the new love interest.
Overall: The downsides in mentioned I freely admit are due to personal preference. It's like just because something is realistic doesn't mean you have to like it. I have the upmost appreciation for this whole book and the characters and the problems. But I didn't like Ryden. Having said that, I definitely don't regret reading this book and I do recommend it.
Would I Recommend This? Yup.
To Whom?
Fans of Jessica Verdi, and fans of any YA Contemporary that deals with
these kind
of hard topics. I would not recommend to the fluffy lovers out there.
Will I read more from this author? Most definitely.
*GIVEAWAY*
About the Author:
Jessica Verdi lives in Brooklyn, NY, and received her MFA in Writing for Children from The New School. She loves seltzer, Tabasco sauce, TV, vegetarian soup, flip-flops, and her dog. Visit her at
www.jessicaverdi.com
and follow her on Twitter
@jessverdi
.