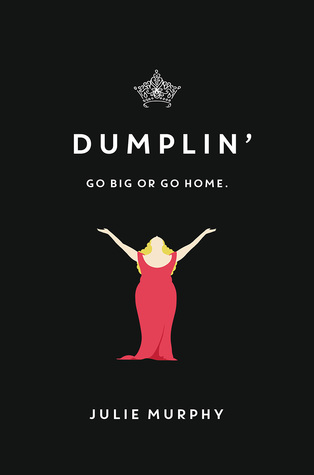 Dumplin'
by Julie Murphy
Release date: September 15th
Format: ARC
Goodreads Link
Self-proclaimed fat girl Willowdean Dickson (dubbed "Dumplin'" by her former beauty queen mom) has always been at home in her own skin. Her thoughts on having the ultimate bikini body? Put a bikini on your body. With her all-American beauty best friend, Ellen, by her side, things have always worked . . . until Will takes a job at Harpy's, the local fast-food joint. There she meets Private School Bo, a hot former jock. Will isn't surprised to find herself attracted to Bo. But she is surprised when he seems to like her back.
Instead of finding new heights of self-assurance in her relationship with Bo, Will starts to doubt herself. So she sets out to take back her confidence by doing the most horrifying thing she can imagine: entering the Miss Clover City beauty pageant—along with several other unlikely candidates—to show the world that she deserves to be up there as much as any twiggy girl does. Along the way, she'll shock the hell out of Clover City—and maybe herself most of all.
With starry Texas nights, red candy suckers, Dolly Parton songs, and a wildly unforgettable heroine— Dumplin' is guaranteed to steal your heart.
I received this book from the publisher through Edelweiss to review honestly
My Rating:
Review:
Ahhhh. This BOOK. This book is amazing and epic and so much more than everything you want in a good book. It's about breaking stereotypes and being confident about yourself no matter what, even when you most definitely aren't confident. It's about love but mostly self-love and friendship and Dolly Parton. And that's what I loved the most.
Yes, in many ways everything in this book is started because of a boy, Bo, and the way that for the first time Willowdean isn't happy with her body when she's with Bo. But it's so much more than that. Don't get me, wrong because the romance is sweet and in no way typical and I loved it but more than anything I loved it because it wasn't the focal point of the book.
Willowdean doesn't want to be a hero, but she's kind of mine. She has her issues, she's flawed and not always the perfect friend, and she lets what people say get to her more than she's willing to admit, but she's also strong and awesome and will do so much for her friends even if she's selfish and mean sometimes. She is such a deep and well-developed character and I LOVED HER SO MUCH. And I love this author for writing such a beautiful and strong and badass main character who isn't a twig and isn't average, she's so much more than that.
Give me all of the side characters! There were so many amazing characters in this book. First, of course, you have Willowdean and Ellen who've been friends forever after bonding over an undying love for Dolly Parton Their relationship has some ups and downs, but it's the best on in the book and, I mean, I've never shipped best friends before in an unromantic way but I ship them so much. Then you have the group of kind of misfits who follow Willowdean into the world of the Miss Clover City Pageant. First, there's Millie who's just as big if not bigger than Willowdean and who won't let what other people say get to her. Who's loved the pageant and dreamed of it since she was little and is just so awesome and sweet and kind. Then you have Amanda, who I loved from the moment she started calling Bo peachbutt. And finally, Hanna who might be my favorite character because she's so dark and awesome and mean without really meaning to and she just rounds out the group perfectly.

The beauty pageant background was so amazing too. Willowdean was annoying at times, but what main character isn't? It was never enough to even lower my rating because everything about this book was so amazing and I loved Willowdean too much to be annoyed for long.


Basically, I did not want to put this book down. I knew within the first 4% that I was in love with Dumplin' and Willowdean. The writing is so fucking good. It's simple but filled with so many quotable, true, and heartbreaking lines. It's perfect for the story. And EVERYONE must read this immediately.
Would I Recommend This?
Definitely.
To Whom?
Everyone.
Will I read more from this author(or series)?
Most definitely.