Song Of The Moment- All For Love by Lady Antebellum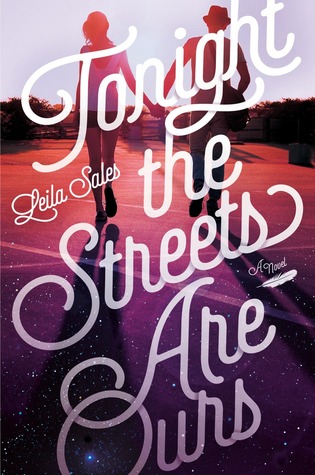 Tonight The Streets Are Ours
by Leila Sales
Release date: Septemeber 15, 2015
Format: Hardcover
Genre: YA Contemporary
Goodreads Link
From the author of This Song Will Save Your Life comes a funny and relatable book about the hazards of falling for a person you haven't met yet.
Seventeen-year-old Arden Huntley is recklessly loyal. Taking care of her loved ones is what gives Arden purpose in her life and makes her feel like she matters. But she's tired of being loyal to people who don't appreciate her—including her needy best friend and her absent mom.
Arden finds comfort in a blog she stumbles upon called "Tonight the Streets Are Ours," the musings of a young New York City writer named Peter. When Peter is dumped by the girlfriend he blogs about, Arden decides to take a road trip to see him.
During one crazy night out in NYC filled with parties, dancing, and music—the type of night when anything can happen, and nearly everything does—Arden discovers that Peter isn't exactly who she thought he was. And maybe she isn't exactly who she thought she was, either.
My Rating:

Review:
Tonight The Streets Are Ours... I had high hopes for this one, I loved This Song Will Save Your Life and this one sounds amazing and I LOVE the title and the cover and I was...disappointed. I guess this was a coming of age story, a story of self-discovery, a story about learning to let yourself grow and that it's okay to change, it's okay to be selfish. And it's a really great coming of age story and it's nowhere near your average coming of age story which I loved. But it's also not full of adventure and fun like I was expecting.
Arden is recklessly loyal. Meaning, her whole life she's believed that loving someone is like writing them a blank check and promising to always be there for them even when she didn't want to be. Arden loves people and she helps them, so what if they aren't there for her, that just means she loves them more than they love her. And that's fine? Right? But for the first time ever, Arden's starting to doubt whether that's true.
A pet peeve of mine is the way in which this is written. It's third person first of all, and that contributed to my problem, which was it felt detached from our main character Arden. It didn't feel like we were in her head and it didn't feel like we knew who she was, and it just never came together, clicked, the way I wanted it too.
And, for me, it just felt like the bigest part of this book was set up and backstory, all leading up to something that wasn't that big of a thing, in the end? We see lots and lots of Arden is there for everyone, sacrificing herself when they never asked her too. We see Arden and the boyfriend who doesn't love her. Her best friend(who I loved) who doesn't appreciate her. Her mom who left her. Then we see her find this blog, Tonight The Streets Are Ours. I didn't even really get the point of Peter, he didn't play as big a part as I wanted, it was weird and I hated him. the whole blog thing just seemed really weird, I never even understood why Arden was obsessed with it? There wasn't a lot of plot, there was a lot of just, this is your average person, this is what she does. Where was the adventure? The plot?
And does every character who wants to be a writer (Peter) have to be so pretentious about it? Peter is too whiny about his perfect life and Arden is annoying and they're both super needy and ergh. I honestly loved Arden and her recklessly loyal ways, though. Sure she's part your average good girl but she's also new and different.
I just wanted MORE. More from the story, more from the characters,
more
. I thought Peter would play a bigger part. I thought there'd be adventure. There was just never a moment that I felt this book really clicked together. Writing, story, and character wise. It felt like 75% of the book was back story and lead up, all to an end that wasn't all that exciting and fulfilling.
This book is very quiet and unique and full of lessons and I feel like maybe some of my issues with it were just me expecting something different and that's not really the book's fault. If you're looking for adventure and a love story don't look here. If you want a unique coming of age story told in a unique way, pick up Tonight The Streets Are Ours, just don't expect a bunch of adventure and fun, it's a realistic story that lacks those fictional things I love in Ya contemporary (true love and happily ever after, adventure).
I really did enjoy this book, It was fun and fast paced and reminded me of why I love Lelia Sales but...nothing ever happened. For 200+ pages nothing but backstory and lead up. I have to give the author props for writing one of the most unique stories I've read, with one of the most unique main characters. I just didn't connect with the characters and the story, for me the writing was too disconnected and felt removed from Arden, making it hard to really understand her. I do recommend this book because it's still a good book, a quick read that I don't regret and hopefully you can connect with the characters and story more than I did.
Overall: I enjoyed this book in the basic sense, I just didn't love it. It never seemed to fully come together and I wanted more from it. I do still recommend it if it sounds like something you'd enjoy.