Song Of The Moment- Somewhere In Neverland by All Time Low
Never Never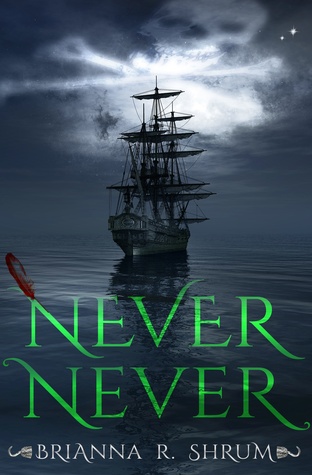 by Brianna Shrum
Release date:
Format: ARC
Genre:
Goodreads Link
James Hook is a child who only wants to grow up.
When he meets Peter Pan, a boy who loves to pretend and is intent on never becoming a man, James decides he could try being a child—at least briefly. James joins Peter Pan on a holiday to Neverland, a place of adventure created by children's dreams, but Neverland is not for the faint of heart. Soon James finds himself longing for home, determined that he is destined to be a man. But Peter refuses to take him back, leaving James trapped in a world just beyond the one he loves. A world where children are to never grow up.
But grow up he does.
And thus begins the epic adventure of a Lost Boy and a Pirate.
This story isn't about Peter Pan; it's about the boy whose life he stole. It's about a man in a world that hates men. It's about the feared Captain James Hook and his passionate quest to kill the Pan, an impossible feat in a magical land where everyone loves Peter Pan.
Except one.
*I received an advanced copy of this book to review honestly
My Rating:
Review:
One day, while wishing to grow older and be a man, James Hook meets Peter Pan. James is immediately drawn to the Pan, wanting to be friends, wanting to go with him to Neverland, wanting, for the first time in his life, to never grow up. But only for a little while, a vacation to Neverland and then back to London, Peter promises. Only, the Pan doesn't keep promises, he makes the rules and everybody loves him for it. Even James, except he can't always forget everything, the deaths of the pirates, the glee on Peter's face when he does evil things, he can't forget it the way Peter does...
Okay, so I really loved a lot of this book but I was also confused, disappointed with the ending, and I couldn't always connect and understand the characters. While I loved reading it and I couldn't put the book down, I feel like, in certain aspects, this one didn't quite reach its full potential.
A Few Of My Favorite Things:
- Peter Pan. I've read a few retellings of Peter Pan and none of them have had such a unique take on the character himself. and I
loved
it so much. He's kind of evil, yes, which I loved. But also, it's easy to love him just like all the inhabitants of Neverland do and he's such a complex character, I only wish we could've seen a little more of him.
- Tiger Lily. Tiger Lily is my favorite Peter Pan character and I was so happy to see she played quite a big part in this one. Also again, she is such a complex character, she lacked some development but at the same time she's so multifaceted and complicated and, feels, okay? Feels.
- FEELS. There's no doubt that this book brings the feels, in plot twisty ways that I'd never have expected from this. The book goes a lot deeper into the characters than I'd expected and just shows you Neverland and Peter and Hook in ways you wouldn't really expect, I think.
- The WRITING. It's amazing, that's all.
A Few Of My Not So Favorite Things:
- The pacing. I loved the pacing because it was fast and I was never bored. However, I was very confused. You see, James Hook is growing up and aging and time is weird in Neverland, so it jumps. Neverland's days pass but it can be longer or shorter than a real day, and Hook gets older randomly and I was so confused. In my head, I would picture Hook as you know, like twenty, twenty-five, then he'd act like he was still a little kid. And I get it, it's Neverland, the author did an amazing job of showing all of that and it's...realistic that it would work that way. He's randomly aging, of course he still feels like a kid sometimes, but it contributed majorly to me not connecting with Hook and his character.
- James Hook belongs on my least favorite things and my most, because he's probably the most complex and complicated character I've ever read about. Having said that, I put him here because I never really understood where he was coming from or going. he flip-flopped and I just never understood him. At times it was clearer, in the beginning and the end, but I just felt disconnected and I wanted to understand him and his story so much more.
- Wendy Darling. Honestly, this is the only book I've read where I liked Wendy... So, why is she here? Because I don't think she met her potential.
That's the thing, this book was awesome and I loved reading it but at the end, I feel like there could've been so much more.
Overall:
I am conflicted. On the one hand, I really enjoyed this, but I think what it boils down to in the end is, despite all its awesomeness, I wanted more. It kind of jumped around and, maybe highlighted the wrong things? I loved all the romance, I did, I was constantly rushing reading to get to those chapters, but I wanted more of Peter and even Hook himself. Despite all these complex, unique characters, you don't really understand them, and I guess it's supposed to be that way? I can't honestly say it would be better differently, but it's like the plot points and the conclusion and all that, was so disjointed that I didn't feel the littlest bit content with the ending.
Having said that, I really do recommend this book, I will probably read it again honestly and hope I can connect to it better a second time. It's a fast-paced book with amazing characters, and a unique take on Peter Pan, so at the very least all Neverland fans need to read it. =)
Giveaway!
Enter for the chance to win a finished copy of Never, Never!
About The Author:
Brianna Shrum lives in Colorado with her high-school-sweetheart turned husband and her two little boys. She's been writing since she could scrawl letters, and has worked with teens since she graduated out of teenager-hood, either in the writing classes she taught, or working with the youth group. Brianna digs all things YA, all things geeky, superhero-y, gamery, magical, and strange.
Her debut YA, Never Never, releases in September of this year. Her second YA, How to Make Out, releases in Fall 2016. She'd totally love to connect with you, so come say hi on her website or Twitter!