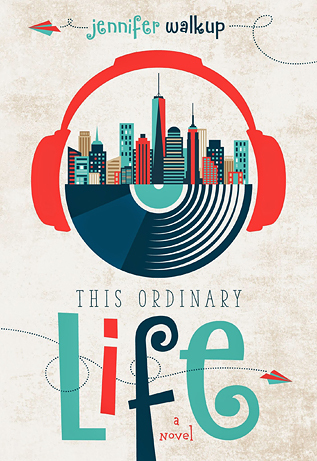 This Ordinaray Life
by Jennifer Walkup
Release date: Oct. 1st
Genre: YA Contemporary
Goodreads Link
High-school radio host Jasmine Torres's life is full of family dysfunction, but if she can score the internship of her dreams with a New York City radio station, she knows she can turn things around.
That is, until her brother Danny's latest seizure forces her to miss the interview, and she's back to the endless loop of missing school for his doctor appointments, picking up the pieces of her mother's booze-soaked life, and stressing about Danny's future.
Then she meets Wes. He's the perfect combination of smart, cute, and funny. He also happens to have epilepsy like her brother. Wes is living a normal life despite his medical issues, which gives Jasmine hope for Danny. But memories of her cheating ex-boyfriend keep her from going on a real date with Wes, no matter how many times he asks her.
Jasmine can't control everything. Not who wins the internship, not her mother's addiction, not her brother's health--not even where her heart will lead her. She wishes she could just have an ordinary life, but maybe what she already has is pretty extraordinary after all.
"I'd sell my soul if it meant my little brother would never have another seizure again."
"I'd give up every school trip, every internship, every chance at any scholarship even, and every chance at having a boyfriend who cared about me - Sabastian or otherwise. I'd give up everything."
"My heart is tattered and flapping in my very empty, endless cavern of a chest."
Giveaway!
a Rafflecopter giveaway
About The Author:
Award-winning author Jennifer Walkup is most often found writing, reading, and spending time with her husband and young sons. A member of SCBWI and RWA, Jennifer also works as an editor and creative writing instructor, and is an advocate for Epilepsy awareness. This Ordinary Life is her second novel.
*All qoutes taken from an adavnce copy of the novel and are subbject to change