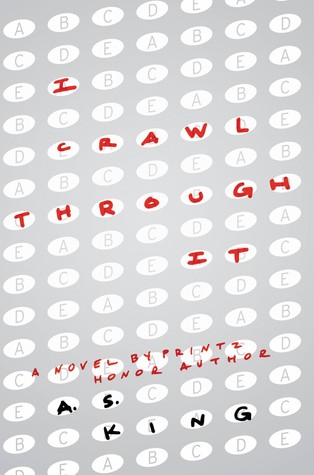 I Crawl Through It
by A.S. King
Release date: 9/22/15
Format: ARC
Genre: YA, Contemporary, Surrealism
Goodreads Link
A boldly surreal novel from one of the best YA writers working today.
Four talented teenagers are traumatized-coping with grief, surviving trauma, facing the anxiety of standardized tests and the neglect of self-absorbed adults—and they'll do anything to escape the pressure. They'll even build an invisible helicopter, to fly far away to a place where everyone will understand them... until they learn the only way to escape reality is to fly right into it.
I received this book from the publisher through Netgalley to review honestly
Not A Review A DNF Explanation:
I've never read an A.S. King book before but, of course, I've heard amazing things about this author. What really made interested in this one was the line in the synopsis about the invisible helicopter. Obviously, going into this I knew things were going to be...strange and overly metaphorical. Two things I love! I'm a sucker for books that are different and strange and weird and I love pretty writing and extended metaphors you're never really quiet sure you "get" or not. Surrealism. All that. I LOVE it.
So I LOVED this book... At first. One Character is a girl who swallowed herself and is now inside out. Another's hair grows more and more every day even though she cuts it every day because she lies. And the last girl? Well, she's two people. Then you have the boy who builds the invisible helicopter. Every day at school bomb threats are called in. The four all know who's doing it but are also not sure who it is.
Where this book first started to lose me was with the "dangerous bush man". A man who lives in a bush and sells letters for kisses. At one point he sells two of the characters letters, answers (for a test I think) and its described as being so long and never ending that the two of them can't carry it home...
Then this almost paranormal spiritual thing started happening and, sadly, I just couldn't handle it anymore.
I wanted to love this book and in ways I'm so in love with the author's writing, and her mind honestly. But it got to the point where I just didn't know a thing that was going on. It was too out there, I didn't want to spend twenty hours trying figure out what the heck is happening.

If you're really into books where you're never really sure what's going on and you like confusing writing, then pick this up! If you want to have fun and not have to think to figure out every sentence...skip it.