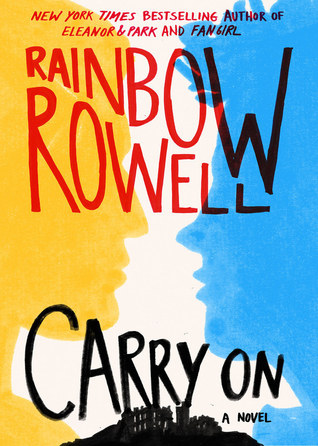 Carry On
by Rainbow Rowell
Release date: Oct. 6 2015
Format: Hardcover
Genre:
Goodreads Link
Rainbow Rowell continues to break boundaries with Carry On, an epic fantasy following the triumphs and heartaches of Simon and Baz from her beloved bestseller Fangirl.
Simon Snow just wants to relax and savor his last year at the Watford School of Magicks, but no one will let him. His girlfriend broke up with him, his best friend is a pest, and his mentor keeps trying to hide him away in the mountains where maybe he'll be safe. Simon can't even enjoy the fact that his roommate and longtime nemesis is missing, because he can't stop worrying about the evil git. Plus there are ghosts. And vampires. And actual evil things trying to shut Simon down. When you're the most powerful magician the world has ever known, you never get to relax and savor anything.
Carry On is a ghost story, a love story, a mystery and a melodrama. It has just as much kissing and talking as you'd expect from a Rainbow Rowell story — but far, far more monsters.
My Rating:
Review:
If you don't know what this is, it's a bit complicated. Carry On is the story of Simon Snow and Baz, who appeared in a way in Fangirl by Rainbow Rowell where they were characters in fictional book series in Fangirl where the main character of Fangirl wrote fanfic about them. Got that? It sounds complicated but if you've read Fangirl, you'll get it. So if you haven't read Fangirl, you can read this review, you could even read the book if you want, but you will not enjoy it nearly as much if you haven't read Fangirl.
I don't know how to review this book or how to even explain what it's about. It's kind of a spoof, like that's the first word that comes to mind. It's a play on all the "Chosen One" stories. It's fun and light-hearted, and yes, of course there are parts that are flat out copying Harry Potter but if you read Fangirl and loved Simon and Baz in it, you'll be able to overlook it. Also, swoons. Lots of them.
Because it's also a love story! And honestly, that's what I was in it for. I loved it and I ship it and new OTP coming through.
Simon Snow is in his last year of mage school, he's the Chosen One. His roommate, Baz, is his arch nemesis, he's also missing, and possibly a vampire. There were was a surprising amount of character development which I loved. I grew to love all the characters and it was more complex than I was expecting which I loved. It did lack some world building and descriptions/explanations, but not so much that I even really noticed while reading.
Now comes the hard part. I've seen a few reviews that mention that it has no plot. I wouldn't say that. I'd say it has a pretty clear plot if not the most original/fleshed out. It's a character driven book which I loved. The thing is, when going into this book, don't take it too seriously. Don't take it to be another run of the mill YA fantasy. I'm not going to say you have to have read Fangirl to read this, but to really love this book you have to have read and loved Fangirl. Because
at the end of the day, it's not just a YA fantasy novel. It's a little of that, a little fun contemporary, a little spoof-y,
and definitely cliched.
I mean, I super loved it but sometimes I rolled my eyes about how Harry Potter rip-off-y it was. But you'll love and appreciate that if you loved Fangirl and loved Simion and Baz in it. Personally, I've been waiting since the day I finished Fangirl (a day after it came out) for this book and
I wasn't disappointed
. It's everything you'd expect it to be.
It's fun and full of feels and swoons
and even a few plot twists. It has an interesting world, and while the book is kind of copying other things, it's also making fun of itself a bit, and just making light of everything and it's in such a non-serious way that you have to love it. As long as you've read Fangirl and are super excited for this story.
Overall: I have so many feels and a new OTP. Simion and Baz FOREVER. I wasn't disappointed in the least with this, it reinforced my love of Rainbow Rowell and it's the kind of book that I'm going to reread again and again. I know the author has said that she wrote it because she wanted to see what she'd do with these characters as her own instead of belonging to the characters in Fangirl, but to me it felt like fan service and I loved every moment of it.
Would I Recommend This?
YES!
Who To?
Fans of Fangirl who love Simon and Baz already.
Will I read more from this author(or series)?
Dude, I'd read her grocery lists, I swear.
Have you read Fangirl? Thoughts? Are you going to read Carry On? How much do you love Simon and Baz???????????!!!!!!!!!!!!!!!