Song Of The Moment- Keep Me Waiting by Adelitas Way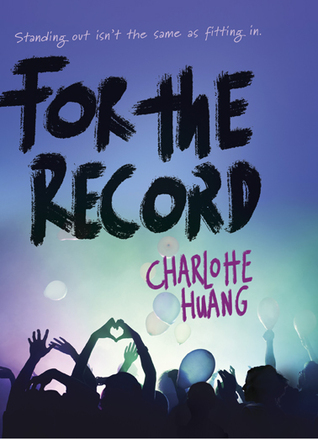 For The Record
by Charlotte Huang
Release date: Nov. 10 2015
Format: ARC
Genre: YA Contemporary
Goodreads Link
If Almost Famous were a YA novel... a raw, honest debut celebrating music, friendship, romance, and life on the road.
Chelsea thought she knew what being a rock star was like... until she became one. After losing a TV talent show, she slid back into small-town anonymity. But one phone call changed everything
Now she's the lead singer of the band Melbourne, performing in sold-out clubs every night and living on a bus with three gorgeous and talented guys. The bummer is that the band barely tolerates her. And when teen heartthrob Lucas Rivers take an interest in her, Chelsea is suddenly famous, bringing Melbourne to the next level—not that they're happy about that. Her feelings for Beckett, Melbourne's bassist, are making life even more complicated.
Chelsea only has the summer tour to make the band—and their fans—love her. If she doesn't, she'll be back in Michigan for senior year, dying a slow death. The paparazzi, the haters, the grueling schedule... Chelsea believed she could handle it. But what if she can't?
*I received an ARC to review honestly*
My Rating:

Review:
This book, I have SO MANY THOUGHTS. Let me start with I LOVED it and HATED it both so much...okay, the love obviously outweighs the hate hence the four-star review. Okay, so I am one of the biggest fans of music-y books, ie: books with music themes. I love them, I read all the ones I can get my hands on and yes, love. So obviously I NEEDED this one and the music aspect? My favorite thing ever! Especially in this book, I think it's probably the best music aspect-y book I've read just because everything was so authentic and on point and so AWESOME.
Okay, fangirl moment over. Let's do this.
For The Record follows Chelsea who's just recently become the lead singer of a fairly popular band, Melbourne, after their lead singer left. To say she's unwelcome is an understatement. The boys of Melbourne aren't really up for the change and she was forced upon the band... About to go on her first tour, Chelsea has made it her goal to get the boys to like and respect her...unfortunately that's going to be harder than she thought.
I'm so conflicted about this book. Let's start with the good because there's a lot of it.
A FEW OF MY FAVORITE THINGS:
- Melbourne! First of all, I loved everything about the band. All three boys had such well developed and unique characters and I loved them all. Plus, again, the music aspect! You really feel like your there with them, with Chelsea experiencing everything and ah! I could gush about this forever because I loved it so much. I really grew to care for all the characters and the whole band. Everything about the band was so good and so on point. I loved the dynamic of her trying to fit in and them not really accepting her. SO GOOD.
- Road trip! Well, I mean, they were on tour so you also get the awesome road trip aspect.
- Characters...okay I kind of already mentioned this but all the boys in Melbourne were amazing characters. As was Chelsea because she's a freaking badass. Sure, she cares that they don't like her but she's not gonna let that stop her. She's not gonna let all their bullsh*t get in her way. She's going to have fun and do what she wants and screw you all (kind of). She was that and she was flawed so I loved her. I did feel a little like her character flip-flopped back and forth. The first chapter made her seem really confident and almost...stuck up? I mean she's hooking up (making out with) some movie star in a bathroom stall. Then you see she's really actually pretty self-conscious and meek but then she reverts again about half way through?
A FEW OF MY NOT SO FAVORITE THINGS:
- The romance just didn't really do it for me. I can't even pinpoint why. I think because it was so cliche? I don't know. I started out liking the love interest, but the more it developed the more it was just meh for me. I guess what I'm saying is I didn't ship it. Also, the whole Lucas (the movie star she made out with in the first chapter) side story thing was kind of weird. Why is this movie star fawning all over her??? And...love triangle...sigh.
The End:
The thing is there were so many things I was disappointed with. At the end of it, this book is awesome. I devoured it. I loved the beginning and the middle. I loved the characters. And I LOVED the band and everything about that aspect of this book. I did love it, but parts just disappointed me.
I love fluffy books like this, but the ending? I'm usually good with any kind of endings. Closed. Open. Crazy shocking ones. I can appreciate them all. But I was SO disappointed in this one. There turned out to be so much drama and angst in the last half and I wanted the book to end on a high great note... And it DIDN'T. I appreciate it. It's realistic and honestly brought me
all the feels
. It just wasn't feels I wanted.
Also, totally just a "me thing", but I wanted the romance to go in a different direction, instead it got so...murky and confusing and blah. I couldn't ship anything except a ship that was never a possibility in the novel (me and my pour ship loving heart). Honestly, this all comes down to personal preference and I still loved more than I was disappointed with.
Overall: I recommend this because I can honestly say it stands out in a sea of fluffy YA contemporary and I've read a lot of music-y YA books and none are as good as this is in that aspect. And honestly, part of the reason I was disappointed in the ending was how much I wanted things to go a certain way and work out a certain way because I
cared so much about the characters
and their story. Mostly, I did love this book and I know it's one I will reread.
GIVEAWAY!
About the Author:
Charlotte Huang is a graduate of Smith College and received an MBA from Columbia Business School, which is clearly something every aspiring writer should do. When not glued to her computer, she cheers her two sons on at sporting events and sometimes manages to stay up late enough to check out bands with her music agent husband. Charlotte lives in Los Angeles and is the author of For the Record (Delacorte, 2015)