Song Of The Moment- Keep Me Waiting by Adelitas Way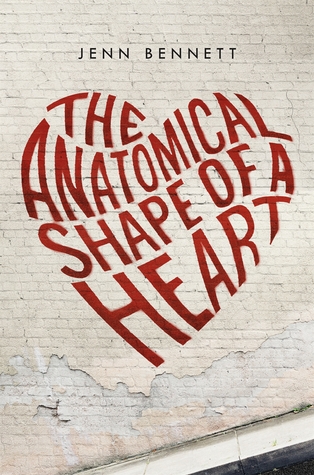 The Anatomical Shape Of A
Heart
by Jenn Bennett
Release date: Nov. 3 2015
Format: ARC
Genre: YA Contemporary
Goodreads Link
Artist Beatrix Adams knows exactly how she's spending the summer before her senior year. Determined to follow in Leonardo da Vinci's footsteps, she's ready to tackle the one thing that will give her an advantage in a museum-sponsored scholarship contest: drawing actual cadavers. But when she tries to sneak her way into the hospital's Willed Body program and misses the last metro train home, she meets a boy who turns her summer plans upside down.

Jack is charming, wildly attractive . . . and possibly one of San Francisco's most notorious graffiti artists. On midnight buses and city rooftops, Beatrix begins to see who Jack really is—and tries to uncover what he's hiding that leaves him so wounded. But will these secrets come back to haunt him? Or will the skeletons in Beatrix's own family's closet tear them apart?
*I received an ARC to review honestly*
My Rating:

Review:
Ermahgerd, I kind of loved this book and I'm going to my best (not very well at all) not to just gush in nonsense sentences all about it, okay?
The Anatomical Shape Of A Heart follows Beatrix (Bex) who is an artist who loves to do anatomy drawings, ie: she wants to be the person who illustrates science text books (essentially). When trying to get an appointment to draw cadavers at the willed bodies lab late one night Bex meets Jack who she quickly figures out is a graffiti artist known for painting giant gold words around the city. Thus starts a sort of whirl wind romance.
- First things first, I shipped it. I actually find it hard to ship a lot of ships in contemporary, maybe it's because you only get the one book usually? I don't know. Either way, straight from the beginning I shipped Bex and Jack. I LOVED the romance in this book, it didn't overwhelm everything else going on even though it was kind of the main event. It was maybe a tad insta lovey? But it felt more like a slow burn...if that makes sense. They were both such unique characters that I loved.
- ART. Man, art aspects are second only to music aspects in my mind and I LOVED everything about the art in this. I mean, the main character draws anatomy pictures, like she's sketching a dead body. It was just so unique and well down and ugh, the graffiti side too with all it's reasoning behind it ugh. Here I am, making coherent sentences...
- Characters. Both Jack and Bex are complex and lovely characters. Jack kind of seems like the bad boy player right off the bat and I loved that as the story progresses you see that, you know, maybe he looks like that but there's so much to him. Bex is just...freaky and awesome. I mean, the girl loves drawing dead things, I think we were destined to be best friends.
- Sex positive! This book is very sex positive which isn't something I usually care much about but I have to say I loved that the guy was a virgin while the girl was a bit experienced since it's usually the other way around.
Bad things...the writing was simply too fantastic, I mean, it made me never want to put it down! How dare it?
Okay, seriously now. The drama at the end was cliche, I saw it coming for miles but still. And I really wanted more out of the side characters, especially Heath (Bex's brother) and Bex's mom. Plus, the side story of Bex's dad who left them for a younger woman, it was also cliched and just kind of felt like it was thrown in there to have something else going on and tie up loose ends, it felt unneeded. Anyway, none of this hindered my enjoyment of the book which I still loved.
Oh, did I mention the mental healthy issues this book addresses??? Because it does, but I won't give away everything!
Overall: 10 outta 10, would read again. (highly reccomended!)
GIVEAWAY!
About the Author:
Jenn Bennett is the author of the Arcadia Bell urban fantasy series with Pocket and the Roaring 20's historical paranormal romance series with Berkley. She lives near Atlanta with one husband and two pugs.