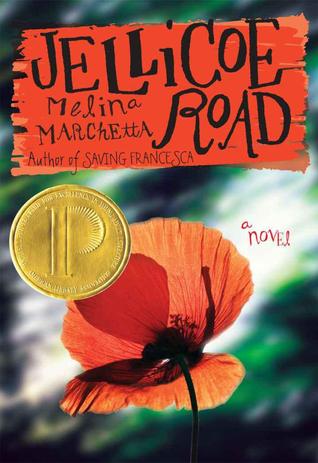 Jellicoe Road
by Melina Marchetta
Release date: 2010
Format: Hardcover
Genre: YA Contemporary
Goodreads Link
"What do you want from me?" he asks. What I want from every person in my life, I want to tell him. More.
Abandoned by her mother on Jellicoe Road when she was eleven, Taylor Markham, now seventeen, is finally being confronted with her past. But as the reluctant leader of her boarding school dorm, there isn't a lot of time for introspection. And while Hannah, the closest adult Taylor has to family, has disappeared, Jonah Griggs is back in town, moody stares and all.
In this absorbing story by Melina Marchetta, nothing is as it seems and every clue leads to more questions as Taylor tries to work out the connection between her mother dumping her, Hannah finding her then and her sudden departure now, a mysterious stranger who once whispered something in her ear, a boy in her dreams, five kids who lived on Jellicoe Road eighteen years ago, and the maddening and magnetic Jonah Griggs, who knows her better than she thinks he does. If Taylor can put together the pieces of her past, she might just be able to change her future.
My Rating:

Review:
So yeah. There's no way I can coherently review this... This book...is
everything
. I hate trying to pick apart books I love and that just grip my feels and twist and pull them until I can't even anymore and I'm pretty sure I couldn't find many if anything, I didn't like in this book so I won't try.
This book is about...life. Shitty things and good things and how tied up they are together. It's about family and friends and love of every kind, how you're a little bit in love with everyone who means anything to you and Ah!
The
feels
, it hurts so bad because it's so good. It's not even necessarily a sad book but it left me feeling like I wanted to sob...in a good way... Does that make sense?
why aren't you reading all her books?
Okay, so there's two stories in this book and they interconnect so much and I don't even know who I loved more at the end and just... There's so much good in this book (love and friendship and fun war/territory games which were just such an awesome part of the book) and it's all tied in with all these bad things and it's SO PAINFUL AND HOW WILL MY FEELS
EVER
RECOVER?
I can honestly say there's not another book I could compare this too. the feelings it makes you feel and the thoughts it instills and
the characters!
And it's not a sad book and it's not a happy book and it's somewhere so perfectly in between that...ah it makes me just want to force everyone to read it okay?
THE RELATIONSHIPS! Don't talk to me about them! I can't even think about Narnie, and Webb, and Fitz, and Tate, and Jude. And that's just the characters from the story inside the story. I loved Taylor (main character) and Raffy, and Jessa, and Jonah and JUST EVERYONE AND EVERYTHING.
Basically, after finishing this, I can't decide if I want to reread it right away or never read it again because I don't know that my feels could handle it...
I'm serious.
Spoiler:
Fitz and Webb and oh my god how could this happen????? WHY!?!?!?!?!?!?
In conclusion, I can honestly say this is one the best books I've ever read and you must all read it now and I bow down to the master of recommendations,
Petra
.
Bittersweet. That's what this book is. So dang bittersweet. it's PAINFUL.
Would I Recommend This?
Um...was something UNCLEAR IN MY RAMBLING NOT-A-REVIEW REVIEW????
To Whom?
EVERYONE WHO'S EVER EVENED. because i CAN'T.
Will I read more from this author(or series)?
Uh, duh!