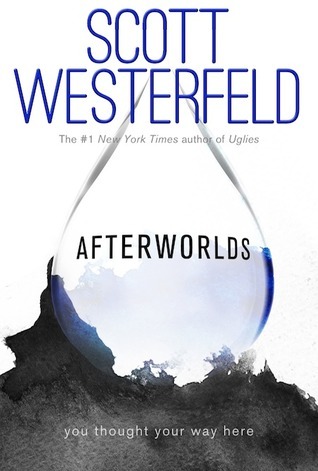 Afterworlds
by Scott Westerfeld
Release date: 9.23.14
Format: Hardcover
Genre: YA Contemporary/paranormal
Goodreads Link
Darcy Patel has put college and everything else on hold to publish her teen novel, Afterworlds. Arriving in New York with no apartment or friends she wonders whether she's made the right decision until she falls in with a crowd of other seasoned and fledgling writers who take her under their wings…
Told in alternating chapters is Darcy's novel, a suspenseful thriller about Lizzie, a teen who slips into the 'Afterworld' to survive a terrorist attack. But the Afterworld is a place between the living and the dead and as Lizzie drifts between our world and that of the Afterworld, she discovers that many unsolved - and terrifying - stories need to be reconciled. And when a new threat resurfaces, Lizzie learns her special gifts may not be enough to protect those she loves and cares about most.
My Rating:

Review:
THIS IS COMPLICATED. So, I'm sure most of you have seen the meh reviews this got when it came out back in 2014, I say most of you because it was actually pretty hyped from what I remember. And oh my god, I've been dying to get and read it. So when I finally bought it (thanks to it's super cheap price on Book Outlet!) I dived in almost immediately. Now, I knew most people didn't *love* it. It had a lot of meh reviews, some more than meh and some less than meh but I still wanted to love it so bad! And... =(
Okay. Afterworlds is two stories. The first is about Darcy and is contemporary. The second is about Lizzy, and is the actual Afterworlds novel that was written by Darcy and is paranormal. Are you with me? Okay. Good.
So I kind of thought aspects of this were different than they are. When I first heard of it I thought Darcy was trying to get her book published not already had a giant book deal. I thought the two stories would tie in more and I didn't think the actual Afterworlds side would be so...paranormal/romance/ghosty. I don't know why but I didn't. Still. I guess I thought it was more fantasy? My own fault but just so you know, it's not. It's ghosts and paranormal and mostly romance.
Let's start with plot...
Plot, what plot?
Seriously there seemed to be next to no plot in both sides of this story. You have Darcy, who just got a big fat publishing deal. I'm gonna be nitpicky and say how much it bugs me that YA books with teenage writers always make it sound so easy and it drives me crazy. Darcy wrote her book in one month -- that's perfectly reasonable. But then she immediately landed an agent and a publishing deal without even rewriting and that ANNOYS me. Mostly this is frustrating because everything else about Darcy's writing career seems so realistic and this one thing just drove me insane.
But, okay, whatever. But then...Darcy was really, really, REALLY naive. And stupid. I mean the girl moves to New York without having somewhere to live??? Even just her life, the idea that you could write a book in one month not edit it or anything, query one agent and have a publishing deal within like 17 days? That's like a child's dreams it's so juvenile. Then you move to New York with NOWHERE TO LIVE. Find the perfect uber expensive apartment because you can see yourself writing there and it's like...everything was too perfect. There was no conflict or plot to her side of the story. She had no real personality, I didn't even feel like she loved writing even though it was apparently her lifelong dream. She just had "the perfect life", the perfect everything with no real consequences. And her side was my FAVORITE of the two.
As for the novel inside the novel, the actual Afterworlds, well let's just say something I thought was a side storyline ended up being the full plot. I just felt like throughout the whole thing I was waiting for things to start with both sides of the story. I was waiting for the plot and fun to begin and it didn't. That's not to say there was no plot, there was it just wasn't drawn out and developed enough. I didn't like Lizzy very much, I didn't like the love interest and honestly, I skimmed. I did. I got bored. So I skimmed.

Now comes the confliction because I DID LIKE THIS BOOK. I HATED it but I also really liked it. Despite it being a 600 page monstrosity for the most part, until the last 150 t0 200 pages, I was really enjoying reading it. Then I realized that it was never going to get better than it was and was just over it.

I just didn't connect with any of the characters, I wanted more out of the Afterworlds side, and a real plot for the Darcy side. I really just think there was too much for one book, having two stories it was clear the author couldn't dive far enough into either story without making it impossibly too long and I just didn't love it. I'm glad I read it but I can't really think of anything to put in the pro column of this review.
Would I Recommend This?
Um...no.
Who To?
Writers if anyone!
Will I read more from this author(or series)?
Maybe?
What's the last book that you read and knew was a horrible book, thought was a horrible book, but also kind of enjoyed? Does anyone else have one of those!