Song Of The Moment- Victorious by Panic! At The Disco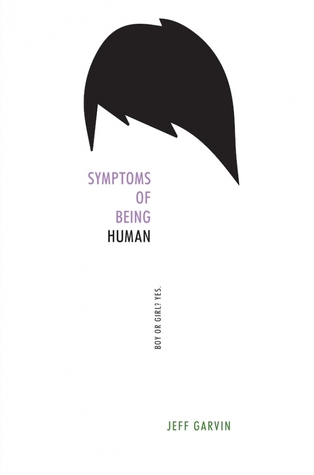 Symptoms Of Being Human
by Jeff Garvin
Release date: 2.2.16
Format: ARC
Genre: YA Contemporary
Goodreads Link
The first thing you're going to want to know about me is: Am I a boy, or am I a girl?
Riley Cavanaugh is many things: Punk rock. Snarky. Rebellious. And gender fluid. Some days Riley identifies as a boy, and others as a girl. The thing is . . . Riley isn't exactly out yet. And between starting a new school and having a congressman father running for reelection in uber-conservative Orange County, the pressure—media and otherwise—is building up in Riley's so-called "normal" life.
On the advice of a therapist, Riley starts an anonymous blog to vent those pent-up feelings and tell the truth of what it's REALLY like to be a gender-fluid teenager. But just as Riley's starting to settle in at school—even developing feelings for a mysterious outcast—the blog goes viral, and an unnamed commenter discovers Riley's real identity, threatening exposure. Riley must make a choice: walk away from what the blog has created—a lifeline, new friends, a cause to believe in—or stand up, come out, and risk everything.
I received an advanced copy of this book to review honestly
My Rating:

Review:
Quick synopsis: Riley is gender fluid. Which if you don't know means somedays Riley wakes up feeling more like a boy, sometimes a girl, and sometimes kind of just hovering between. Riley has anxiety attacks. Riley starts a blog to talk about being gender fluid and ease some of his/her turbulent feelings. Riley is not out to his/her family yet. Riley's dad is a congressman.
First thing I loved about this novel was that the author did such a good job with explaining what exactly being gender fluid means. I knew going into but I understand it so much better now and I feel the author handled it all really well. This is another one of those books that's just so IMPORTANT but sadly, the lack of plot got to me by the end and stopped me from 100% loving it.
So the big thing in this book is the Riley says in the beginning: The first thing you're going to want to know about me is am I a boy or am I a girl? And I applaud the author for taking on this question, for never revealing what gender Riley was born, and having Riley confront the question a lot when it comes to other people but... I get the point of never revealing their gender, it's not needed, it defeats the purpose of the book. The author says in the acknowledgments something along the lines of wanting people to forget to think boy or girl and just see RILEY. Which I did for about a quarter of the book. I got really into this novel and I admit at first I was looking for signs to figure out what gender Riley was born and then I stopped and just saw Riley and didn't care anymore and then...I got bored.
A Few Of My Favorite Things:
Oh the amazing characters: First obviously you have Riley and loved everything about Riley for the most part. Sometimes Riley was kind of repetitive and annoying but I just felt so much for this character. Then you have Bec, I have a love/hate relationship with her because she...I don't know I just didn't like her but she's still an amazingly developed character. Then you have Solo who I loved and wanted more or and the point is this book has all the amazing characters.
The writing flows so well and drags you in. Riley's voice is clear and gripping.
A Few Of My Not So Favorite Things:
Okay so I really loved and enjoyed this book for the most part. At times, Riley annoyed me because things just got so repetitive and it felt like we weren't moving forward at all which brings me to my main gripe. I'm not the kind of person who NEEDS some big fancy plot in contemporary, I love contemporary that's character driven. BUT I think because I started getting annoyed with Riley half way through, and because Riley was really quite selfish at times -- After having like one conversation each with Solo and Bec Riley felt like they owed him/her? -- And Riley just wasn't really... Like even though it became Riley's main goal to help other lgtb+ teenagers I never got over feeling like they did it to make their self feel better. Riley was selfish. And because I got to that point I wasn't okay with the lack of plot. Riley wasn't working up the courage to come out, Riley wasn't working towards really anything. Just living life day to day and trying to blend in.

That's not to say there wasn't character growth there was a ton and I loved Riley at the beginning and end, but towards the middle it was just wandering around and I was bored. So, in the end, what really got to me was the lack of plot. It made the middle boring and the end not as impactful as I would've liked.

Overall: I really did enjoy reading this, I flew through it. Yes, I was annoyed with Riley through half the book but that's because like any character he/she was flawed. I would've liked a stronger plot, I think it would've really made this book go from being good to great but I still recommend it as is.
GIVEAWAY!




About the Author:
Before becoming a novelist, Jeff Garvin acted on TV and toured as the lead singer of a rock band. He has a BFA in Film from Chapman University and lives in Southern California, surrounded by adorable, shedding beasts.