Bookish Mind Control is a feature I started last year and did like...once? It's where I try to convince you all to read some of my favorite books! I brought it back today in celebration of Kimberly G. Giarratano's newest book release!
Dead and Breakfast
is out today and you should all just hurry along and get it and read it and then let me say "I told you so".
I've been a fan of Kimberly's books since I read her first novel,
Grunge Gods and Graveyards
back in like 2014. I LOVE that book so much and I loved The Lady In Blue which was a sort of companion novel to that. I've been excited for Dead and Breakfast since before I even knew what it was, all I knew was that she was writing another book and it too was going to have ghosts.
Congrats Kimberly on your new release!
About the book: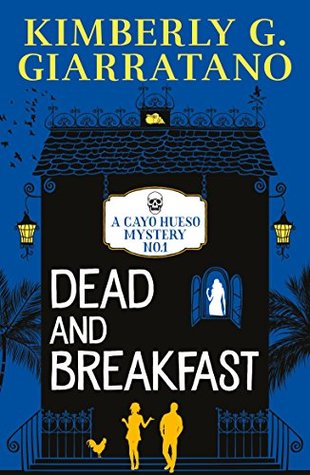 Dead and Breakfast
by Kimberly G. Giarratano
Release date: March 22nd, 2016
Genre: YA, paranormal/mystery
Add it on Goodreads
/
Buy it on Amazon
!
Despite living in Key West his whole life, 18-year-old Liam Breyer is a skeptic of the supernatural until a vengeful spirit, murdered fifty years ago, nearly drowns him in a swimming pool. Luckily help arrives in the form of pretty — albeit homesick — ghost whisperer Autumn Abernathy, whose newly-divorced mom has dragged her to the island to live and work at the Cayo Hueso, a haunted bed and breakfast.
Although they initially mistrust each other, Autumn and Liam team up to solve the decades-old mystery. But on an island where every third resident is a ghost, dealing with an unstable spirit has deadly consequences. If Liam and Autumn don't unmask the killer soon, they're likely to become Key West's latest haunted attraction.
Now I have read Dead and Breakfast and my review should be up later this week (I've been busy and behind on ALL. THE. THINGS.) but, in case the awesome synopsis and my yelling at you to read this isn't enough, I have a list of reasons you should read it! Because what's better than a list??? Nothing, that would be the correct answer.
You should read Dead and Break because....
- GHOSTS. I can't be the only person completely in love with ghost stories, can I? And YA ghost stories on top of it all??? It gives me intense gabby hands and obviously this book as the ghosts.
- Not just ghosts but
mysteries
. I love a good mystery in a book and Kimberly doesn't fail to deliver with her newest release.
- AMAZING characters. Not only did I love the main characters in this book but some of my favorites were the side ones (again. I seem to have a habit of falling in love with her side characters and then begging for more of them which you can look forward to me doing in my review).
- Fast paced, eerie when needed writing. The atmosphere in this book is second only to Grunge Gods and Graveyards and I've already proven I'm biased when it comes to that book.
- Because I said so? And don't you want to read more amazing books? Amazing books with ghosts and mysteries and great characters?
And basically that's all I can say coherently without simply flailing. You see why my review isn't ready yet?
In all honesty, though, if you haven't you must check out this author's books because they are amazing and I wouldn't lie to you. Also, make sure to wish her a happy book birthday!