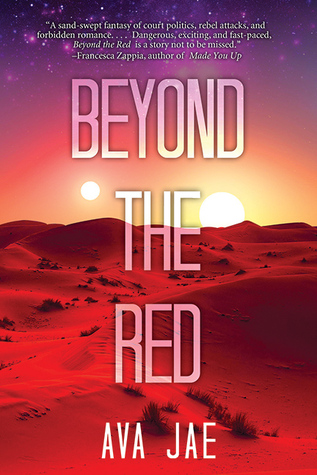 Beyond The Red
by Ava Jae
Release date: 3.1.16
Format: ARC
Genre: YA Sci-fi
Goodreads Link
Alien queen Kora has a problem as vast as the endless crimson deserts. She's the first female ruler of her territory in generations, but her people are rioting and call for her violent younger twin brother to take the throne. Despite assassination attempts, a mounting uprising of nomadic human rebels, and pressure to find a mate to help her rule, she's determined to protect her people from her brother's would-be tyrannical rule.
Eros is a rebel soldier hated by aliens and human alike for being a half-blood. Yet that doesn't stop him from defending his people, at least until Kora's soldiers raze his camp and take him captive. He's given an ultimatum: be an enslaved bodyguard to Kora, or be executed for his true identity—a secret kept even from him.
When Kora and Eros are framed for the attempted assassination of her betrothed, they flee. Their only chance of survival is to turn themselves into the high court, where revealing Eros's secret could mean a swift public execution. But when they uncover a violent plot to end the human insurgency, they must find a way to work together to prevent genocide
*I received this book from the publisher through Edelweiss to review honestly*
My Rating:

Review:
Beyond The Red reminded me a lot of Winners Curse at its very basics but more than anything it was like nothing I've read before. There was the whole alien aspect and it being set on an alien world but it wasn't really...an alien book? That doesn't make sense. What I mean is it felt almost more like a fantasy book with just another race more than Syfy aliens type things.

Beyond The Red is the perfect mix of Syfy and fantasy. Everything's very advanced technology wise, everything is run by nanotes but everything with the different races the humans and aliens just felt FANTASY to me along with how the world is run and everything.

There was a lot happening through this whole book. It's very fast paced and so hard to put down which I LOVED. And while there's so much going on it's never an overwhelming amount where things get confusing.
I am in awe of the writing. While I felt the author neglected a lot of backstory and world building, which was kind of annoying, in order to keep it so fast paced I just LOVED the writing. There are so many quotable parts and while I didn't understand a lot of this world it was still very vivid in my mind.

The characters were amazing and the relationships and everything were great. This book kept me invested the whole time, there were some plot twists and a few things the caught me totally off guard, which I loved.
Really my thoughts on downsides with this revolve around not enough world building. We don't get to see much of it or learn a lot about how humans got to be on this planet from earth and who the Sepharon are exactly. There's one sentence, I think a good halfway through, that mentions humans coming from earth and being turned into slaves... And that completely threw me off. It's never really explained that I can remember how the nomads came to be nomads and everything. I was also confused by a lot of their terms, some I still don't completely understand. Towards the end I wanted to know more of what was going on behind the scenes with Kora's brother and the main leader dude and exactly what led to what happened happening... If that makes sense.
Also I didn't FEEL a lot shipping wise. And that came because I never really felt what Kora was feeling. I never understood her as much as I did Eros and the little romance there was just felt kind of strange... Especially when it came to Kora's courting. I was never sure what she was feeling towards everyone. There were hints of almost insta love between Kora and one of the other leaders of this world. And it was just... Strange. Eros was a little better but... I liked them as characters I just didn't feel much for either when ti came to relationships.

Overall: I really enjoyed this book. I think it could've been super super great with more world building and backstory but I still loved it, I'd still read it again and I'll still leap at anything else this author writes.
Giveaway!
About the author:
Ava Jae is a writer, an Assistant Editor at Entangled Publishing, and is represented by Louise Fury of The Bent Agency. Her YA Sci-Fi debut, BEYOND THE RED, is releasing March 2016 from Sky Pony Press. When she's not writing about kissing, superpowers, explosions, and aliens, you can find her with her nose buried in a book, nerding out over the latest X-Men news, or hanging out on her
blog
,
Twitter
,
Facebook
,
Tumblr
,
Goodreads
,
Instagram
, and
YouTube
.