Song Of The Moment - Up All Night by Owl City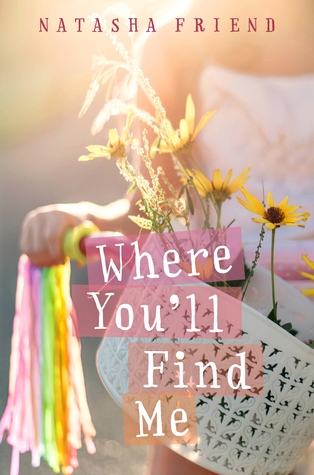 Where You'll Find Me
by Natasha Friend
Release date: 3.8.16
Format: ARC
Genre: MG Contemporary
Goodreads
The first month of school, thirteen-year-old Anna Collette finds herself... DUMPED by her best friend Dani, who suddenly wants to spend eighth grade "hanging out with different people." DESERTED by her mom, who's in the hospital recovering from a suicide attempt. TRAPPED in a house with her dad, a new baby sister, and a stepmother young enough to wear her Delta Delta Delta sweatshirt with pride. STUCK at a lunch table with Shawna the Eyebrow Plucker and Sarabeth the Irish Stepper because she has no one else to sit with. But what if all isn't lost?
I received an advanced copy of this book to review honestly
My Rating:

Review:
To be honest, I've never read a lot of middle-grade contemporary. When it comes to contemporary I usually stay in the YA age range so I wasn't really sure what to expect of this one but I ended up really enjoying it!
Anna's thirteen, just starting eighth grade and her life is kind of falling apart. As girls will do, Anna's best friend decided they should spend this year hanging out with new people. On top of that, Anna's mom hasn't been right since long before her dad left her for a younger woman and now she's in the hospital recovering from a suicide attempt. Leaving Anna to live with her dad, stepmom, and new baby sister. Things aren't looking very hopeful to Anna and she's just waiting for everything to go back to normal. Unfourtantly for her, it's not that simple.
The author did such an amazing job with this book. Handling the issue of suicide along with so much else for a young audience in such a great way. It was never glossed over, while it was very much seen from a 13-year-olds perspective; where Anna didn't really understand it fully, how messed up her mom was and how much work it was going to take her to be better again.
There was so much I loved about this book, first and foremost being the girl power feel to it all. It takes Anna a little while to make new friends after being abandoned by her lifelong best friend. But when she does, it's with a bunch of amazing misfits who Anna judged at one point but quickly came to realize they were fine with who they were and having more fun than everyone else in the eighth grade combined. I loved the friendships between the girls, I loved when they signed up for a talent show together. It just gave off this amazing girl power feeling that I'm so happy to see in a middle-grade book.
Besides that, I was really happy with how Anna's relationship developed with her stepmom. Anna starts out hating her and her dad and blaming them for everything like any normal teenage girl. But there was some amazing development and some of my favorite parts were seeing her and her stepmom start to get close. They have a girls weekend away and everything. Again with the girl power!
The writing was great and fast paced. The whole story kind of reminded me of a Mary Amato book, she's one of my favorite authors who writes kind of lower YA contemporary and so that's a big plus in my mind. The downside came for me where the book felt a little bare-boned...it was more dialogue than anything and I would've liked a little more plot and story. Having said that, it is middle grade, not YA, so it didn't ruin the book for me or anything. Plus, isn't it always a good thing to walk away from a book wanting more?
I highly recommend this, especially to younger readers. This is something I definitely would've completely loved when I was 13. I loved it now when I'm almost 20!
About the Author:
Natasha Friend--wearer of silly hats, lover of press-on mustaches, admirer of Gloria Steinem, devotee of well-named nail polish shades--is also an author. When she is not writing books, you will find her playing Wiffle ball, turning cartwheels, making chocolate-chip pancakes, singing, dancing, and wishing she was in a talent show. Natasha lives in Connecticut with her husband, three kids, and dog. Where You'll Find Me is her sixth novel. Visit her online at natashafriend.com