All The Feels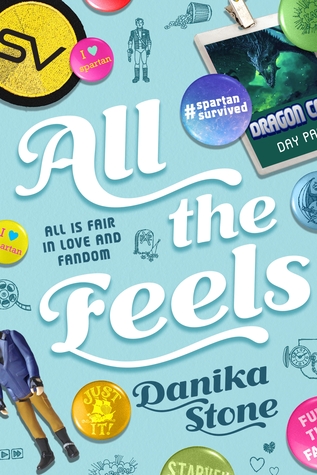 by Danika Stone
Release date: June 7th
Format: ARC
Genre: YA Contemporary
Goodreads Link
College freshman Liv is more than just a fangirl: The Starveil movies are her life… So, when her favorite character, Captain Matt Spartan, is killed off at the end of the last movie, Liv Just. Can't. Deal.
Tired of sitting in her room sobbing, Liv decides to launch an online campaign to bring her beloved hero back to life. With the help of her best friend, Xander, actor and steampunk cosplayer extraordinaire, she creates #SpartanSurvived, a campaign to ignite the fandom. But as her online life succeeds beyond her wildest dreams, Liv is forced to balance that with the pressures of school, her mother's disapproval, and her (mostly nonexistent and entirely traumatic) romantic life. A trip to DragonCon with Xander might be exactly what she needs to figure out what she really wants.
I received this book from the publisher through Netgalley to review honestly
My Rating:
Review:
So, as a major fangirl, obviously, I felt a great NEED to read this book. I love my contemporary books and I love anything where the character is a giant nerd I can relate too. As is the case with Liv. Liv is destroyed after seeing the latest in her favorite movie franchise, where her favorite character, her hero, dies at the end. Liv just can't let it go. Spartan and Starveil was more than just a character and a movie to her. It was part of her and now it's just and gone.
I relate to Liv on so many levels. Not only with feeling the way she has when some of my favorite characters have been killed off, and how fandom is so amazing and so much a part of my life not a hobby, but also on the level of her being an extremely socially anxious person. She's not shy, she can talk to people and make friends but she doesn't know how and she's so nervous she nearly pukes at the thought. And yup. That I can relate too.
I loved Liv, basically. She's awesome and nerdy, and flawed but still great. Xander is just the epitome of a book boyfriend, that's all I'll say. There weren't really a ton of side characters but I loved the Starveil fandom!
This book is very fun and fast paced. i loved the writing and the author really nailed what it feels like to be in fandom and to care so much for fictional characters. I loved that the main plot is just Liv trying to resurrect her favorite character and how much this ties into her life and her well-being.
SO downsides... I just kind of wanted the story to go a little further? I feel like we just grazed the outskirts of what it's like to be in a fandom and to be swept up in something like Liv is. I feel like the book kind of glossed over parts that could've been so much better! It's not that they weren't good as it, they were, but they could've been great. I wanted to feel more of the comrades that comes in a fandom. You felt it when Liv was messaging her friends online and Liv was so adamant that they were real friends to her but then she meets them... And I get what the author was going for, not everyone you meet online is exactly what you think they are, even just in small ways. Your favorite fic writer ends up being an over weight forty-year-old woman... But I still wanted the comradie and it felt like Liv wasn't really a part of it anymore at that point. I don't know. I just kind of wanted more build up to the end? I wanted more conflict and struggle because that's what this book was really lacking.
There were lines along the lines of like the fans deciding the future of shows and the fans making the actors what they are and I wanted this expanded upon in some way. It's all leading up to Liv at Dragoncon trying to save her favorite movies and finally meeting the actor who plays her favorite character and I just wanted a little more from the end was all.
OVERALL: I really enjoyed this book. It's fast paced and fun, Liv is the most relatable character ever and I loved how nerdy it was. Like the chapter headers are qoutes from fantasy and sci-fi, and just...greatest thing ever, okay? I reccomend it to anyone who's part of a fandom, you will relate to this book and just have a fun old time here.
About the author:
Danika Stone is an author, artist, and educator who discovered a passion for writing fiction while in the throes of her Masters thesis. A self-declared bibliophile, Danika now writes novels for both adults (The Intaglio Series and Ctrl Z) and teens (All the Feels). When not writing, Danika can be found hiking in the Rockies, planning grand adventures, and spending far too much time online. She lives with her husband, three sons, and a houseful of imaginary characters in a windy corner of Alberta, Canada.
Ms. Stone is represented by Morty Mint of Mint Literary Agency.